Chiropractor Irvine, CA

Whole Body Chiropractor California
Restoration Healthcare's whole-body chiropractic service is headed by our practice's founder, Dr. Thomas S. Bakman, DC, FAFICC.
Dr. Bakman says he's fortunate to have had the opportunity throughout his career to work alongside many different practitioners. From orthopedic surgery to sports medicine, from urgent care to certified hand chiropractic therapy in Irvine, he used these experiences to develop a well-rounded approach to treating patients.
His "out-of-the-chiropractic box" approach results in two levels of diagnosis.
Level One Diagnosis: Through a functional evaluation, the first diagnosis can be discovered. It is a "local" diagnosis of the area that is causing the symptoms —whether that involves pain, numbness or something else. This can determine if a finding on an MRI or X-ray is relevant.
Level Two Diagnosis: From there a second diagnosis of the "global" breakdown is created. This answers why the specific area in question was allowed to be abused and break down. This "reverse engineering" approach usually succeeds where traditional means haven't resolved the problem or problems.
Chiropractic Treatment Irvine
Hands-on treatment here at Restoration Healthcare is individualized per the patient's need. This can vary from very low-force manipulation to standard chiropractic adjustment. Dr. Bakman is very well versed in several functional soft-tissue techniques depending upon the clinical presentation and your preferences.
Active care is essential in Dr. Bakman's mind. He has practiced physical medicine rehab for the past 27 years and has found that training your primary stability through 'Foundation Training' — a series of exercises created to alleviate acute and chronic back pain, improve posture and enhance athletic ability, through the integration of your body's muscle chains, and proper movement patterns — may strengthen and make you independent from care, whereas traditional rehab can go on for an indefinite period of time. Contact us at (949) 535-2322 to schedule an appointment today.
Conditions that Dr. Bakman treats include:
Complicated neck and back issues, including post-surgical and instability
Headaches
Shoulder pain/impingement/tears
Forearm pain and carpal tunnel syndrome
Arm numbness and tingling
Hip pain
Knee—torn meniscus, patella-femoral syndrome, and post-surgical cases
Foot — ankle pain/instability, plantar fasciitis
Leg numbness and tingling
Chronic running injuries
Sports optimization.
Learn more about Dr. Bakman by reading his detailed biography: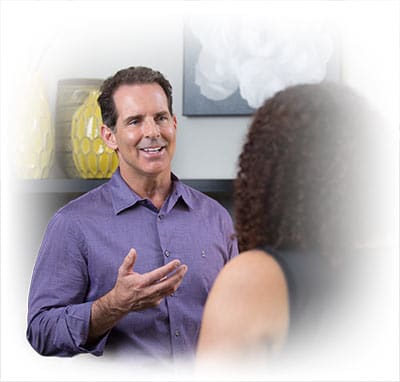 As a licensed chiropractor since 1988, Dr. Thomas S. Bakman has provided healthcare in multidisciplinary practices since 1993. He believes in putting the best of medicine, physical therapy, athletic training and chiropractic together for the benefit of his patients. Dr Bakman has learned the disciplines surrounding the "subtle" signs that point to the human body breaking down. His athletic background and discipline in fitness led him to the point of making a career of helping others achieve their health goals. His business experience — including starting up medical practices, utilization review and creating a medical provider network for California — has assisted him in creating a health care delivery system that he believes is second to none.
Dr. Bakman was one of the youngest in his class to complete his postgraduate education. He was licensed at the age of 25 as a chiropractor after completing studies in biology at the University of California at Irvine and graduating from the Los Angeles College of Chiropractic. Although his undergraduate work was completed within a pre-med curriculum, he views himself as a provider of great health care with a formal education as a chiropractor. He quickly discovered that to make the largest impact on someone's health he needed to be medically integrated.
In 1992 this lead to the creation of one of the first multi-disciplinary medical groups in California's Central Valley. He studied and created critical pathways that combined the best of medicine, physical therapy, athletic training and chiropractic. It was at this early point in his career that he was attending an international conference of the North American Back Society. A study was presented that claimed that only 10 percent of the time do examinations test positive for the surgical patient. This was thought-provoking; enough so that Dr. Bakman began to focus and learn what to look for the other 90 percent of the time. "The pursuit of the 'sub-clinical' findings has always seemed to be the right thing for the patient."
This approach proved successful, and in 1993 led Dr. Bakman to the creation of a multidisciplinary work injury program focused on returning a "fit" person to the workplace. He was fortunate to work with larger employers and observed a measurable difference that a team of specialties working together could produce for the injured and save resources.
In 2001, he moved back to Southern California to start an orthopedic surgical practice. At this point, he had not created a practice that was surgically based.
In 2003 Dr. Bakman was part of a team that pioneered a program for large employers that fixed the fragmentation of Workers' Comp by creating a private medical provider network that united the worker, employer, and doctor via open communication through the Internet. The initial client was a sub-brand of a Fortune 500 firm. In 2003 the client was averaging $10 million in losses for 4,000 employees. By 2007, the losses were reduced to a consistent $2 million with the same amount of payroll and less litigation. Since 2004, Dr. Bakman has performed usability reviews for employers such as:
Southern California Edison
Loma Linda University
Warner Brothers Studios
Los Angeles Department of Water and Power
Disneyland resorts
Throughout his career, he has been utilized as an expert in court and was certified as an "expert witness" in Superior Court in 1990. He was the utilization review expert in Paola vs. Southern California Edison (June 14, 2005, Case No. LBO 356549 — an important legal decision following California's Workers' Compensation reform in 2004).
Dr. Bakman remains on the post–graduate faculty of his alma mater (Los Angeles College of Chiropractic) and enjoys teaching and presenting workshops to running groups.
For many years Dr. Bakman has had a desire to create a healthcare facility that would utilize the best from all of the healthcare disciplines to allow someone's health to be restored
"Western medicine focuses mainly on treating the sick patient and their pathology. If you look at the research, this approach has not been effective in preventing the chronic diseases that usually lead to our demise. Evidenced-based Functional Medicine is an approach that seeks to restore the body. Its aim is to identify the biochemical individuality and then use as natural of an approach as possible to return the body's system back to a better balance. The goal is to fend off chronic disease." — Dr. Thomas S. Bakman, DC, FAFICC (Founder, Restoration Healthcare, Inc.)
For the orthopedic injury, there are usually two diagnoses that bring someone to the office. The first is the presenting diagnosis — symptoms such as pain that might prevent someone from everyday activities or keep them from their passion.
"Then an equally important diagnosis is a silent or hidden one that the patient is not usually aware of," Dr. Bakman said. "This is the biomechanical fault or adaptation that allowed the presenting diagnosis to occur. The same is true with the biochemistry."
This lead to the opening of Restoration Health Care Inc., in January of 2015.
Dr. Bakman believes in giving back to the community. He remembers early on some advice from a mentor: "Don't miss the magic of giving while remaining anonymous."
He serves on the Board of Regents at the Southern California University of Health Sciences, and has been a Rotary Club member since 1988. With a good friend he started a non-profit in 2008 that fed the homeless in Orange County. That organization is now known as the "Chili-Van," and is operated by the Orange County Rescue Mission.
Dr. Bakman said he feels privileged to have worked with many highly skilled doctors and providers not only because this creates possibilities and solutions, but more important, it gives you — the patient — realistic hope at returning to your passion while raising your overall health level.
He and his wife and daughter live along the Southern California coastline, and enjoy traveling to England and New Zealand to visit family.
We also offer the following Services: