Insurance and Billing FAQs — Collectly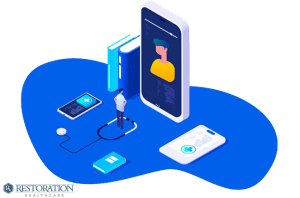 At Restoration Healthcare, we're committed to providing compassionate care and service to you and your family. This includes helping you understand what health insurance is, explaining some common — but admittedly complicated — health insurance terms, and making it easy and stress-free to pay your medical bills.
We've partnered with Collectly — an online bill pay platform that simplifies the process of receiving your healthcare bills and paying them online in ways that work best for you.
We know you probably have questions about how Collectly works and why we chose them to help both us — and you — manage healthcare billing and payments. Below, we've put together a list of frequently asked questions. If you have a question that isn't answered below, please feel free to contact us by email using billing at RhealthC.com.
IF I HAVE HEALTH INSURANCE, WHY DID I RECEIVE A BILL FROM RESTORATION HEALTHCARE?
In simple terms, your health insurance plan is a cost-sharing agreement between you and your insurance company. Generally speaking, most insurance companies cover the costs for preventive care throughout the year, such as check-ups, simple procedures, etc.
For other services, many insurance companies require you to cover all costs until you reach a specified amount — known as a deductible. Once you reach that specific amount, then the insurance company starts paying for covered services.
For example, if you have a $500 deductible, then each year you will have to pay your medical costs for non-preventive care until you have paid a total of $500. Once you reach that $500 limit, the insurance company will begin to cover some of your medical costs for the rest of the year.
How much they pay for each procedure and service after you've reached your deductible depends on your particular health insurance plan.
After you receive care at Restoration Healthcare, we send a bill to your insurance company. The insurer then determines how much it will pay for a service or visit, and how much you are responsible for (this breakdown is shown on the Explanation of Benefits, or EOB, which is provided by the insurance company in the form of a statement mailed to your home address, as well as to us here at Restoration Healthcare).
Once we receive the EOB from the insurance company, we send a bill for the amount you owe — what is called the patient responsibility.
QUESTION: WHAT IS COLLECTLY?
Collectly is an online bill management and payment tool that we use alongside our HIPAA-compliant Electronic Health Records (EHR) platform. If you've ever noticed your Restoration Healthcare physician typing notes during your appointment, those notes are stored in the EHR.

Collectly helps you simplify the payment of your medical bills. With Collectly, we can text and email easy-to-understand statements, provide you with instant support through live chat, and automate everything surrounding setting up a payment plan and collecting the amount you're responsible for your healthcare.
WHY DID RESTORATION HEALTHCARE CHOOSE COLLECTLY TO POWER ONLINE BILLPAY?
While there are lots reasons why we chose Collectly, here are the Top 5 from the patient perspective:
Collectly Simplifies Payment Notifications: Based on your own preferences, you can choose to receive notices by email, text or through the mail.
Payment Plans: Collectly makes it easy to set up payment plans that work best for you and your family's budget.
Live Chat: With Collectly, there's almost always someone available to chat with you about your bill.
Instant Pay: When you make a payment using Collectly, the charge is immediately processed, taking the guesswork out of when the charge will appear on your credit card or show up as a debit in your bank account.
PCI Compliance: Collectly's storage of credit card data complies with the Payment Card Industry (PCI) data security standard, which means your credit card data is securely stored inside the platform, making autopay just a quick click away.
QUESTION: HOW DOES ONLINE BILLPAY WORK?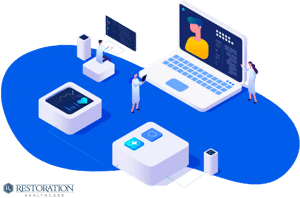 Once your Restoration Healthcare bill is ready, you'll receive an email notification from Collectly stating "Your new online bill is ready," along with a trusted link to access your statement.
When you view your statement online for the first time, Collectly gives you the option of how you'd like to Manage Bill Notifications. Once you verify your account, you'll have the option to receive billing notifications and reminders by:
Email
Text / SMS
Hardcopy thru the U.S. Postal Service
Voicemail (Collectly can call you with reminders about new bills and upcoming payment charges)
WHAT ARE THE BENEFITS TO ME — A RESTORATION HEALTHCARE PATIENT — OF USING THE COLLECTLY'S ONLINE BILLPAY SERVICE TO PAY MY HEALTHCARE BILLS?
It's really all about the convenience factor. With Collectly, you get to set your own terms. From notifications and payment plan terms to options for live chat and securely storing your payment information online, Collectly makes it both simple and convenient for you to stay on top of your health care payments.
WITH COLLECTLY'S ONLINE BILLPAY SERVICE, AM I ABLE TO SELECT PAPER BILLING VERSUS ELECTRONIC BILLING?
Yes. In addition to offering paper versus electronic billing, you can also choose to receive notifications by voicemail! If you'd like help choosing the best option for you, feel free to email us at Billing at RhealthC.com.
YOU MENTIONED THAT I CAN SET UP A PAYMENT PLAN FOR MY HEALTHCARE CHARGES. HOW MANY MONTHS WILL COLLECTLY'S ONLINE BILLPAY SERVICE GIVE ME TO PAY MY BILL?
In most cases, you can make payment arrangements that extend as long as six months.  If you need additional time, please feel free to email our billing department directly Billing at RhealthC.com.
WHAT FEATURES CAN I EXPECT TO SEE WHEN USING COLLECT'S ONLINE BILLPAY SERVICE?
Here are some of features you can access:
eStatements: Collectly provides a secured link via text, email, voicemails, direct mail and push notifications.
Instant Pay: Collectly is so simple that scheduling a payment takes seconds to set up and initiate.
Live Chat: With Collectly, you'll be able to live chat with our billing team in case you have a question about your bill, insurance plan, payment, or payment plan.
Payment Storage: Collectly stores credit data, health savings account (HSA) information, and flexible savings account (FSA) credentials in a HIPAA-compliant environment to reduce paper-based billing.
Online Payment Arrangement: If you can't pay in full, you can quickly build you own payment plan online.
For any other questions having to do with your healthcare bills from Restoration Healthcare (sent using Collectly), please feel free to reach out to our billing team by clicking on the button below: