Happy Labor Day Weekend from Restoration Healthcare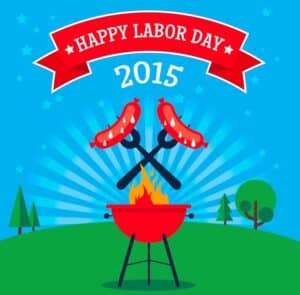 First off, we want to wish you and your loved ones a Happy Labor Day weekend, and share our office hours for the next few days:
Friday, September 4: 8:30am-1pm & 3pm-6pm
Saturday, September 5: 8:30am-11am
Sunday, September 6: Closed
Monday, September 7: Closed
Tuesday, September 8: 8:30am-1pm & 3pm-6pm
If you need to reach us before Tuesday, your best option is to give us a call on Saturday (not only are we in the office and seeing patients on Saturday, but we're also available by phone to schedule appointments and answer questions).
Meanwhile, if you're looking for something fun to do over the holiday weekend, here's a quick rundown of what's happening across the OC:
Orange International Street Fair
This Labor Day weekend event in held the City of Orange and is among the largest outdoor food fests held in our area. Now in its 43rd year, the food fair is today and Sunday in the city's historic downtown area. Areas around "The Circle" will be closed to automobile traffic, with dozens of booths offering food representing the various cultures represented in our county. Money raised at the booths go to local charities. For hours and more information, visit http://www.orangestreetfair.org.
The Great Labor Day Cruise
Also tomorrow and Sunday, the Great Labor Day Cruise is a car show on the Orange County Fairgrounds in Costa Mesa that features a nonstop cruise around a 1.25-mile cruise route. Thousands of vintage automobiles, classic and street rods, along with more than 100 vendors selling automobile-related items will be on hand for this event. For more information, visit www.occa-inc.com or call (714) 562-8752.
Labor Day Concert in the Park
Down south in Dana Point, a concert in the park is scheduled from 1 to 4:30 p.m. on Labor Day, featuring the Tijuana Dogs and the Dave Silver Band. The Dana Point 5th Marine Regiment Support Group will be selling food and drinks to raise funds for Marines abroad. Admission is free and the event takes place at Lantern Bay Park, 25111 Park Lantern Road.
San Clemente Village Art Faire
Even further south, the Village Art Faire in San Clemente gets underway at 9 a.m. this Sunday, hosted by the Downtown Business Association. Stroll and shop Avenida Del Mar where more than 60 vendors will have arts, crafts and other items. These artist offer a variety of hand-crafted work, which includes photography, fine art, jewelry, woodwork, botanicals, apothecary, leather, wearables, ceramics, home decor, fused/blown glass and metal work. For details, visit http://www.villagesanclemente.org.
Labor Day Music Festival at the Queen Mary
Shoreline Jam's new two-day festival is scheduled for tomorrow and Sunday, offering more live music to fill the weekend at the Queen Mary's waterfront event park. Doors open at 1:30 for the event, which runs both days from 2 to 11 p.m. A one-day pass costs $45 and a two-day events pass is $95. For more information, visit www.queenmary.com.