Using the InBody 770 Body Composition Tool to Support Data-Driven Healthcare
While there are many real and perceived drawbacks to conventional medical treatment, one that stands out in particular is when you can start to feel better even as your health is deteriorating. For example, your doctor may prescribe antihistamines, decongestants, steroids, and the use of a nasal sprays to alleviate allergy symptoms. But after using these prescribed medicines, you discover your condition continues to worsen and even lead to other problems, such as sinus infection or side effects of the medication.
Here at Restoration Healthcare, our focus is on improving health and wellbeing by first determining the underlying cause(s) of your symptoms, Certainly, we want you to feel better from the treatments we recommend, but how you feel is a subjective measure that may not accurately reflect your health.
As practitioners of functional medicine and integrative healthcare, we look at objective measures — not only to assess the underlying status of your health — but to evaluate the effectiveness of the treatments we recommend. Conventional measures of weight, temperature, and blood pressure are helpful, as are lab tests to examine blood counts, glucose and cholesterol levels, nutrient levels, and so on.
In addition to these and other office and lab tests, we routinely conduct a body composition analysis using the InBody 770 — a premium, medical/research grade body composition and body water analyzer that can fully analyze body composition in just one to two minutes.
InBody 770 Body Composition Analysis
The InBody 770 is a leading device in the field of body composition analysis. Its patented technology performs a non-invasive test that entails the patient standing on the device and holding the hand rods for one to two minutes.
The analyzer produces detailed results, including:
Body Composition Analysis
Body Water Composition
Muscle-Fat Analysis
Body Mass Index (BMI)
Lean Balance
Visceral Fat Area
Basal Metabolic Rate (BMR)
And much more
The InBody 770 also provides phase angle measurements to determine the integrity of your cells. With these phase angle measurements, we can determine the overall health and vitality of your body's cells and monitor the effectiveness of recommended treatments.
Low-phase angles are consistent with poor cell integrity, energy deficiency, nutrient depletion, and illness. Higher-phase angles reflect healthy cell function and the ability to maintain optimal health with proper diet and exercise. A phase angle of four to seven is normal with six or greater the ideal for men and five or greater ideal for women.
InBody is among the most cost-efficient, non-invasive, fastest, and most accurate body composition analysis options available.
Case Study
Here's one example of how we used body composition analysis with a Restoration Healthcare patient.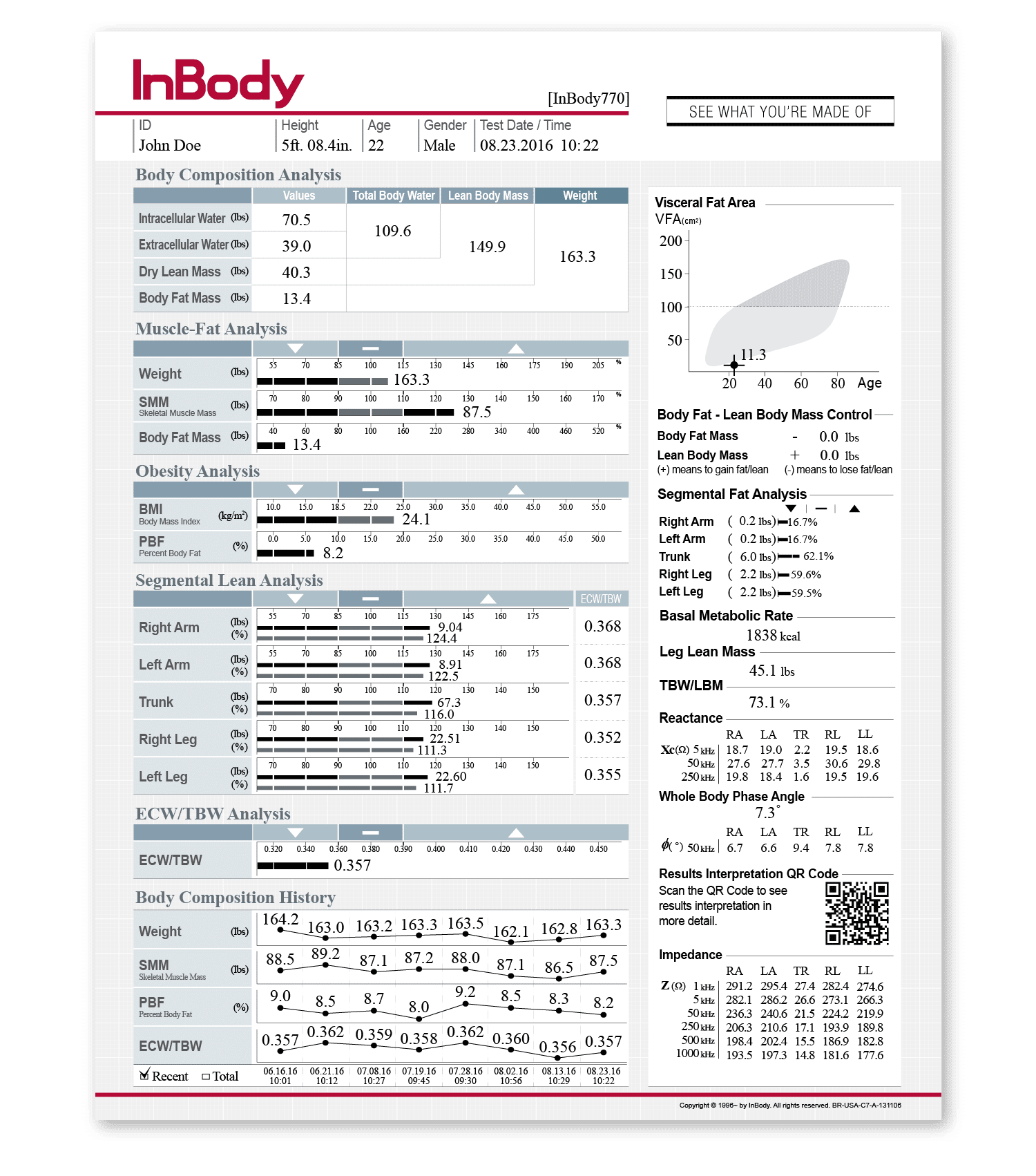 A patient came to our Irvine clinic complaining of a high level of anxiety. He was in a high-stress job, wasn't working out, and his InBody 770 test revealed that his visceral fat area was off the chart (which indicated a high level of inflammation), his phase angle was low, and he was at 35 percent body fat.
After further testing was completed, we implemented a bio-identical hormone replacement program and then tested him three months later. In that time, he had gained nine pounds of lean body mass, dropped five percent body fat, his visceral fat risk factor decreased by 40 percent, and his phase angle had risen. And just as important, he was incredibly happy.
Since implementing the InBody 770 in our treatment programs, we have found that patients often want to come in again and again to retest and monitor their progress. So, in addition to enabling us to evaluate the effectiveness of our treatment protocols, the InBody 770 has become a powerful motivation tool for our patients.
It enables us to work side-by-side with our patients, providing us with objective feedback, so we can determine what's working and what's not, and make data-based decisions — decisions based on testing, not guessing.
How We Use Body Composition Analysis
We use the InBody 770 Body to establish markers important to you and critical to the team here at Restoration Healthcare as we strive to understand your body composition, work with you to set your health and fitness objectives, and measure your progress on your journey to optimal health and well-being.
Whether you suffer from simple, moderate, or complex medical conditions, using our state-of-the-art InBody 770 device will aid us in accurately diagnosing and treating you as part of your Restoration Healthcare plan of care.
If you have any health concerns that are not being addressed to your satisfaction, or you are struggling to meet your health and fitness objectives, we encourage you to schedule an evaluation. We find that in most cases, when people are struggling to meet their health and fitness objectives, it is often through no fault of their own. Frequently we find some underlying physical condition that is standing in their way, sapping their energy and endurance. And one of the best places to start our discovery into that that obstacle may be, is through a minute or two of diagnostic testing on the InBody 770.
– – – – – – – – –
Disclaimer: The information in this blog post about body composition testing, is provided for general informational purposes only and may not reflect current medical thinking or practices. No information contained in this post should be construed as medical advice from the medical staff at Restoration Healthcare, Inc., nor is this post intended to be a substitute for medical counsel on any subject matter. No reader of this post should act or refrain from acting on the basis of any information included in, or accessible through, this post without seeking the appropriate medical advice on the particular facts and circumstances at issue from a licensed medical professional in the recipient's state, country or other appropriate licensing jurisdiction.